Top 100 Searches for Promotional Products in Q2 2021
This ongoing project – updated with Q2 results 2021 – spotlights the promotional products that are most in-demand.
The king is dead. Long live the king.
There's a changing of the guard in our ESP searches for Q2. Masks, the usurper of the industry since 2020, were finally dethroned from the number-one spot, and pens have resumed their place at the top of the promo empire.
Tracking such industry-wide shifts is the intention behind this ongoing initiative, which ASI Media launched at the beginning of 2021. This project showcases the terms that distributors searched for the most on ESP – both in an overall ranking of the Top 100 as well as broken out in 14 product categories. The data will be updated quarterly, and the results here reflect the searches exclusively for Q2 2021. (The next update will arrive in late October.)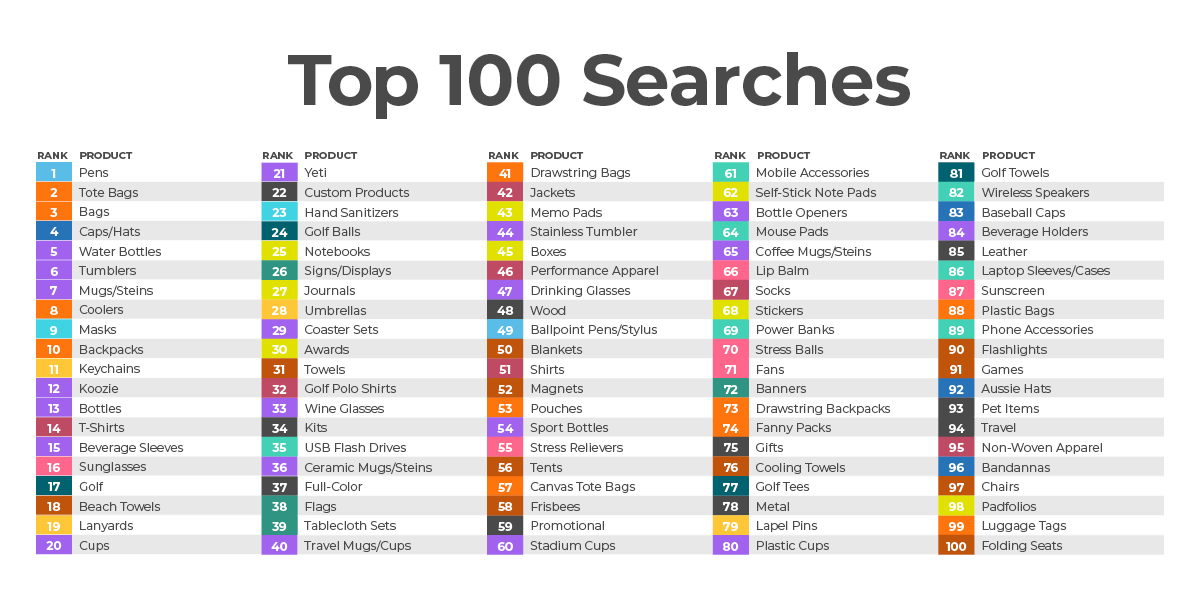 Besides a shift at the top, what were the other significant changes and trends in the quarter?
Outdoor products naturally had an impact this quarter. Beach towels (up 47 places), golf balls (up 34), sunglasses (up 18) and beverage sleeves (up 18) were among the highest risers. In addition, tents, Frisbees, stadium cups, fans, cooling towels and sunscreen were among the 19 new products on this quarter's list.
The items with the biggest drop this quarter include coffee mugs (down 29 spots), jackets (also down 29 spots), plastic bags (down 28), mouse pads (down 27), socks (down 24) and blankets (down 22).
PPE notably slid in the quarter, as masks fell from number one to nine, and hand sanitizers dropped from 10 to 23. With delta cases surging, it's expected that PPE orders are beginning to return, but to what level?
Drinkware was already the most crowded category – and that was before it added more search terms this quarter (stadium cups, plastic cups and beverage holders). That brings the total to 20 – or a fifth of the entire Top 100 search terms.
Product Categories
The Top 100 ESP search terms are divided here into 14 product categories and displayed with their Top 100 rank. The size of the icons corresponds with the number of searches for each product relative to the most popular search term in all of ESP (which in Q2 2021 was pens).
Seasonal changes were apparent in this category. Jackets and socks each dropped more than 20 places, while golf polo shirts ascended 16 spots.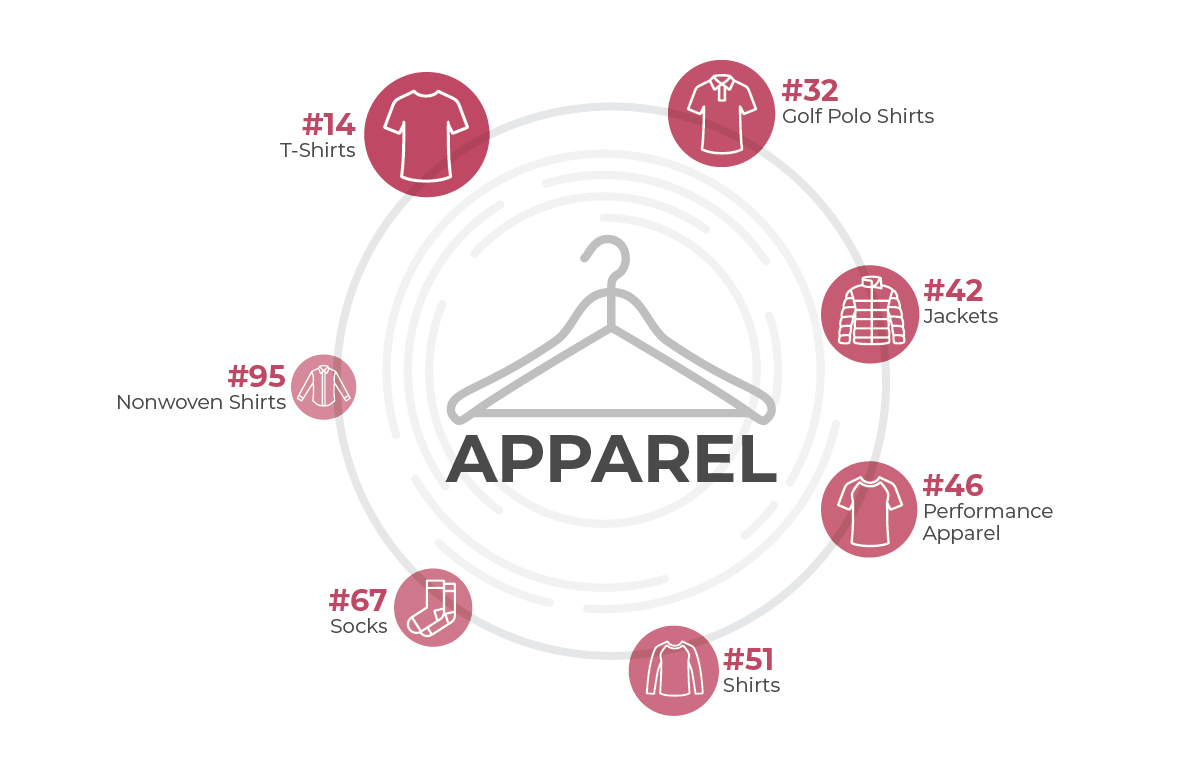 Bags
Drawstring backpacks and fanny packs are new to the list this quarter, ranking 73rd and 74th respectively. Also, luggage tags debuted on the list – a sign that people are beginning to travel in earnest.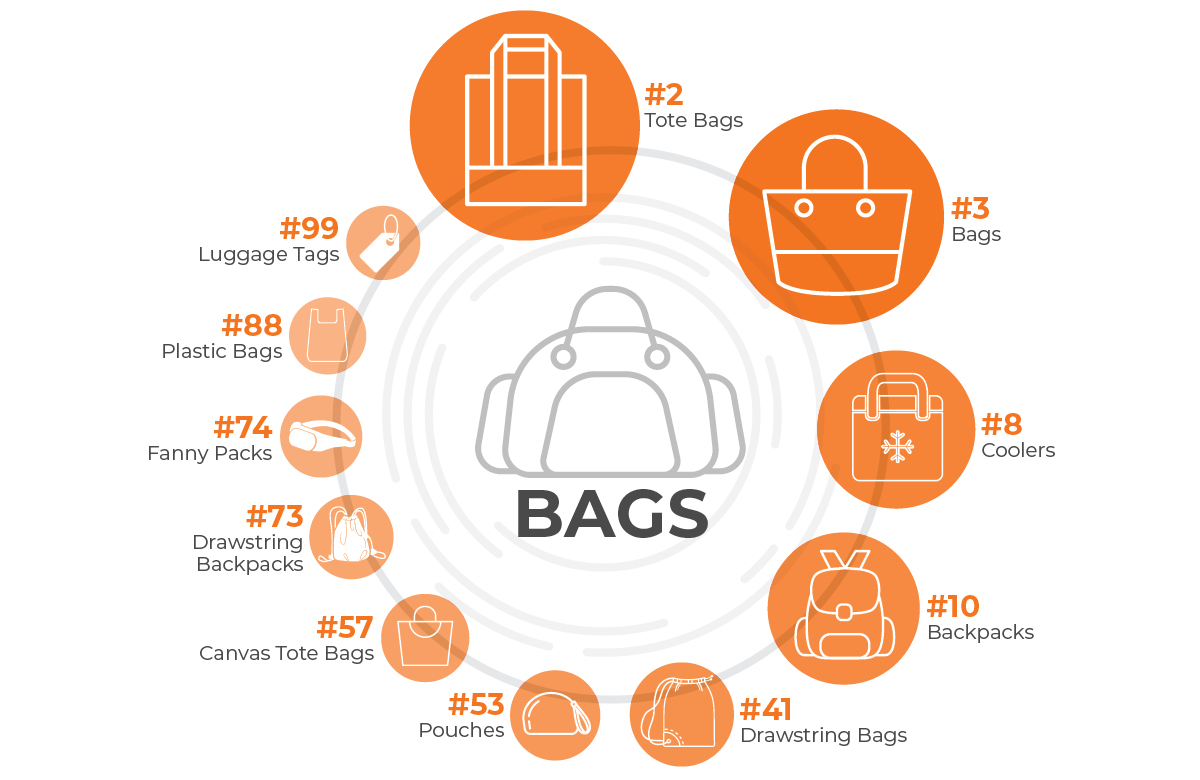 Desk & Paper Products
Summer is no time to be indoors, and it was reflected in this category, as several items (awards, memo pads, boxes, stickers and padfolios) all dropped at least 10 places.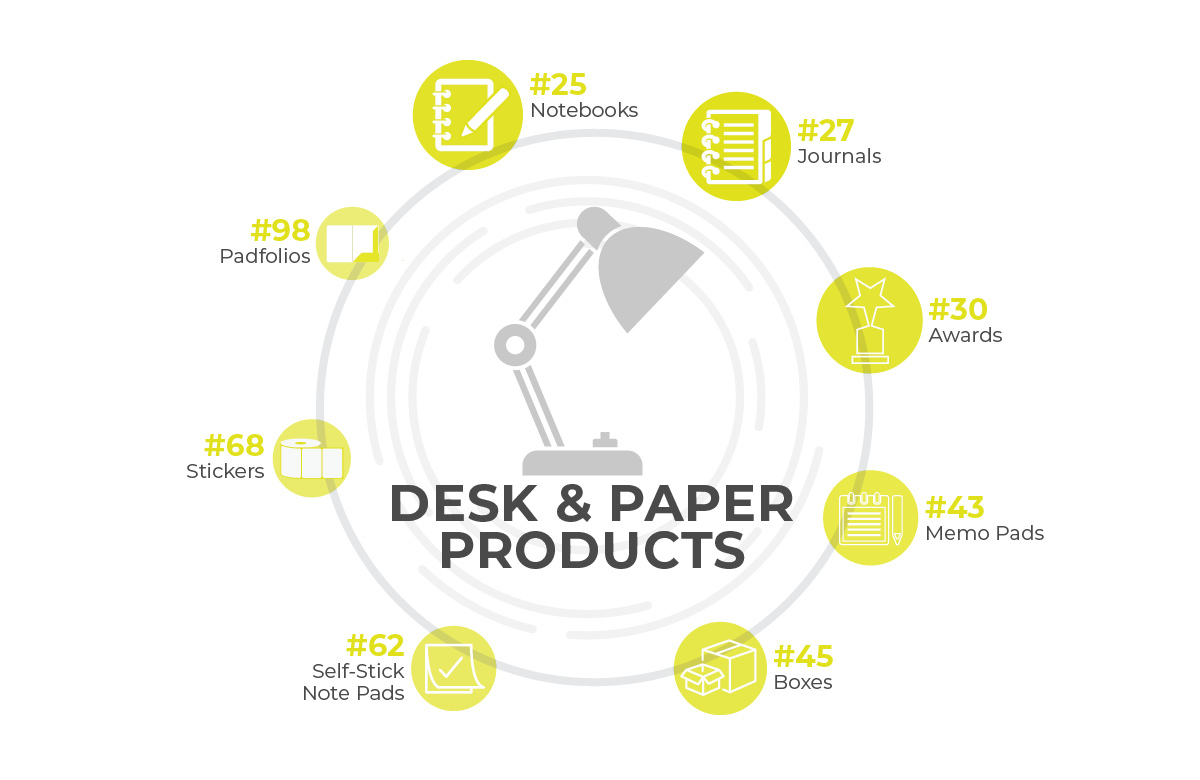 Drinkware
Keep that drink cold! Koozies (up eight spots) and beverage sleeves (up 18) were the big winners this past quarter, while ceramic and coffee mugs tumbled precipitously.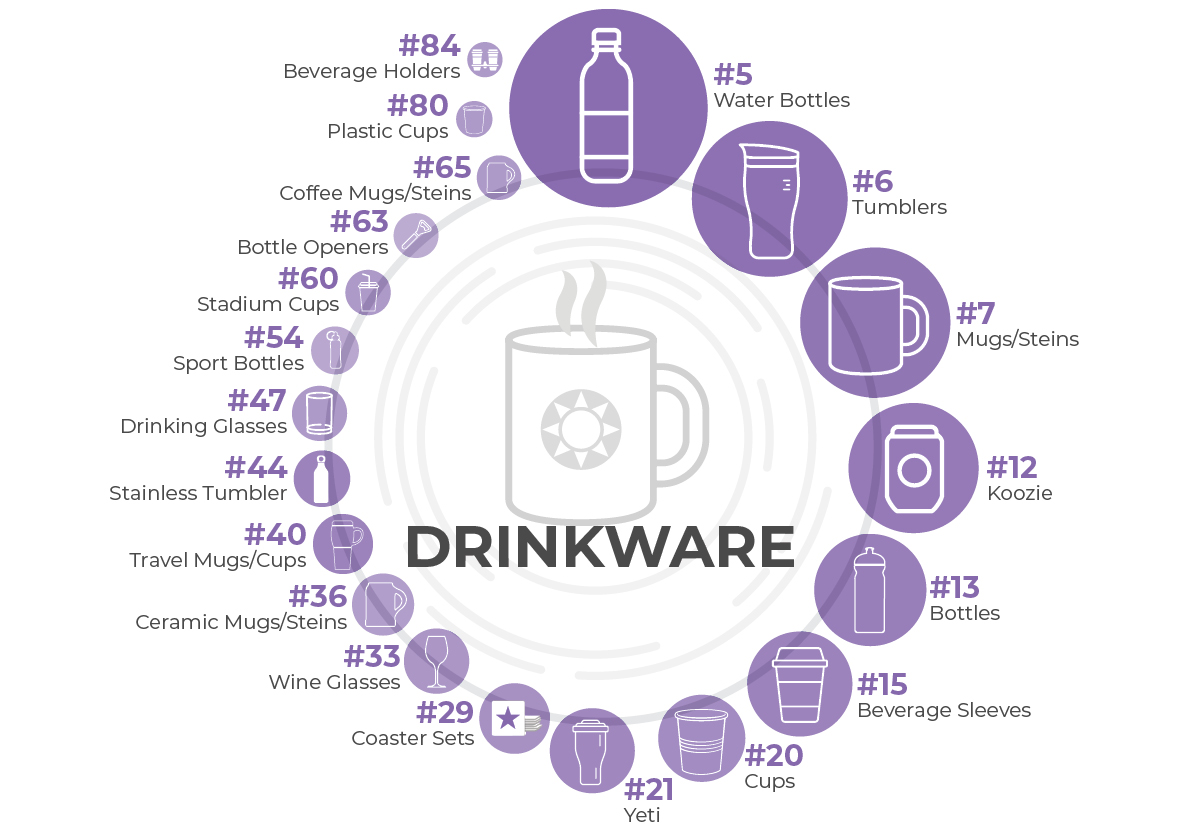 Headwear
Bandannas fell off the list in Q1 but crept back up last quarter – though perhaps less so for non-COVID reasons this time. Aussie hats also made their debut.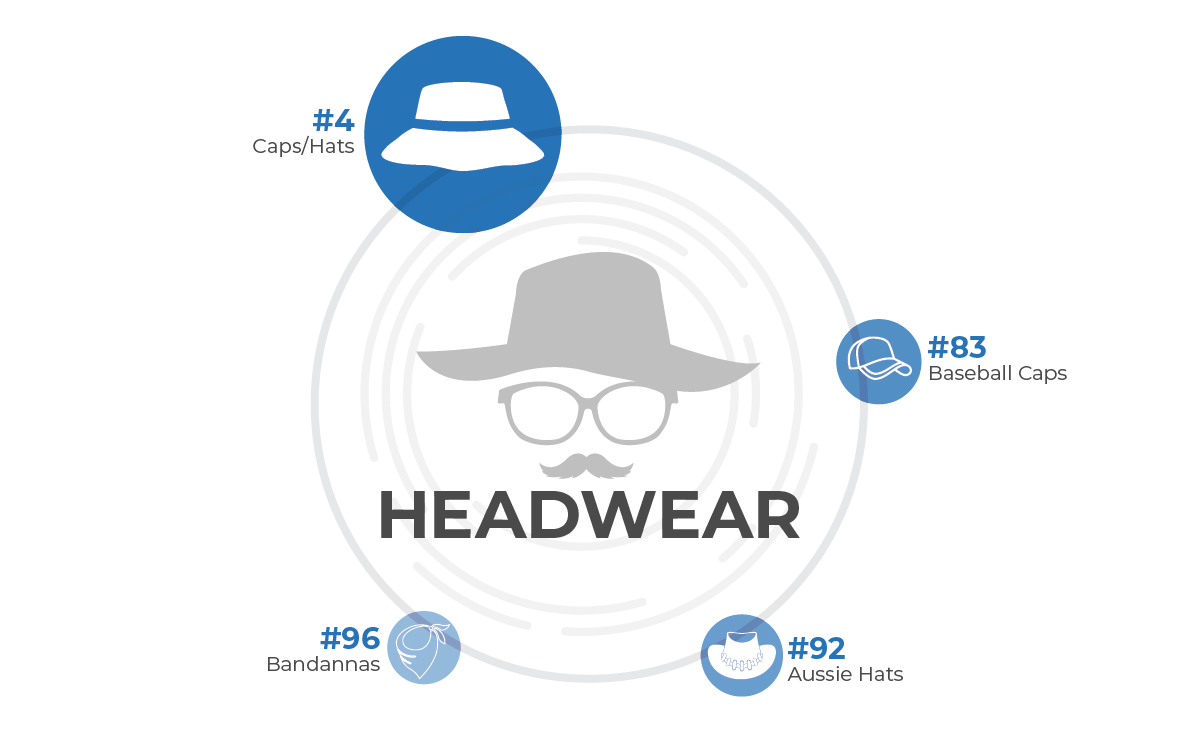 Health (Non-PPE)
Think people are stressed out much? Apparently so, judging by the searches for stress balls and stress relievers, which moved up 27 and 11 places respectively.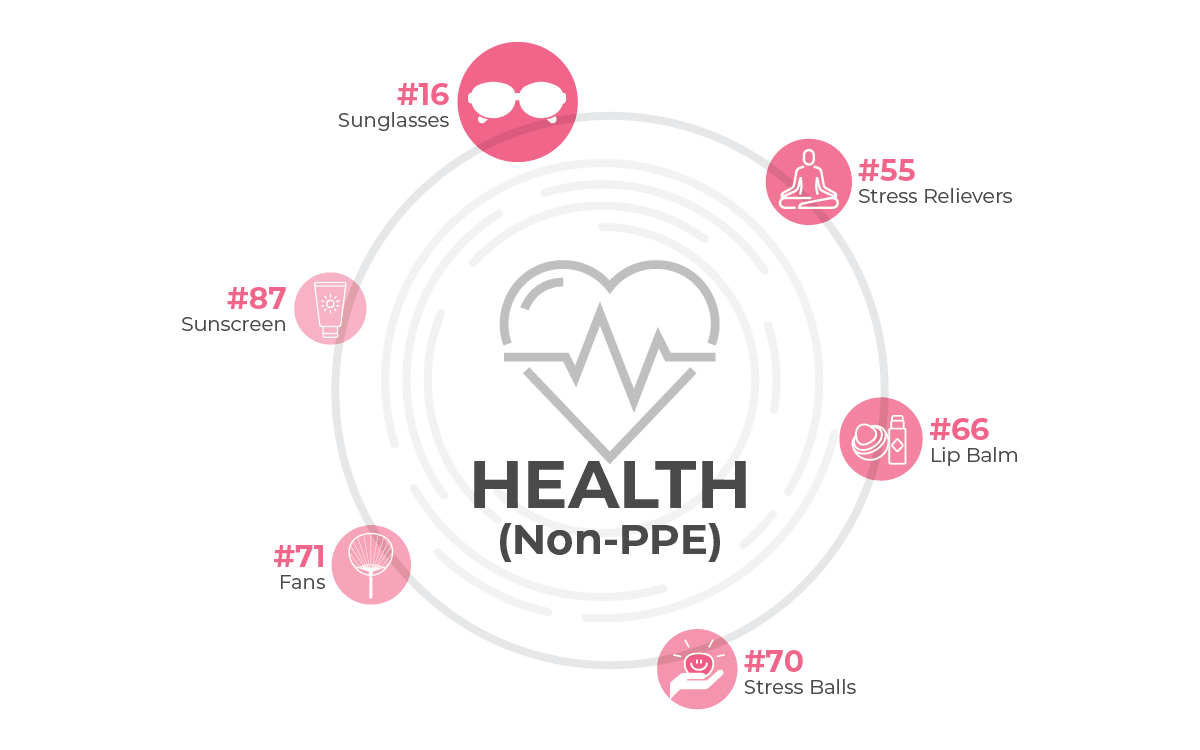 Home
Outdoor search terms rule this category (perhaps with slight irony for being under "Home"). Towels soared, and tents, Frisbees, chairs and folding seats all debuted on the list.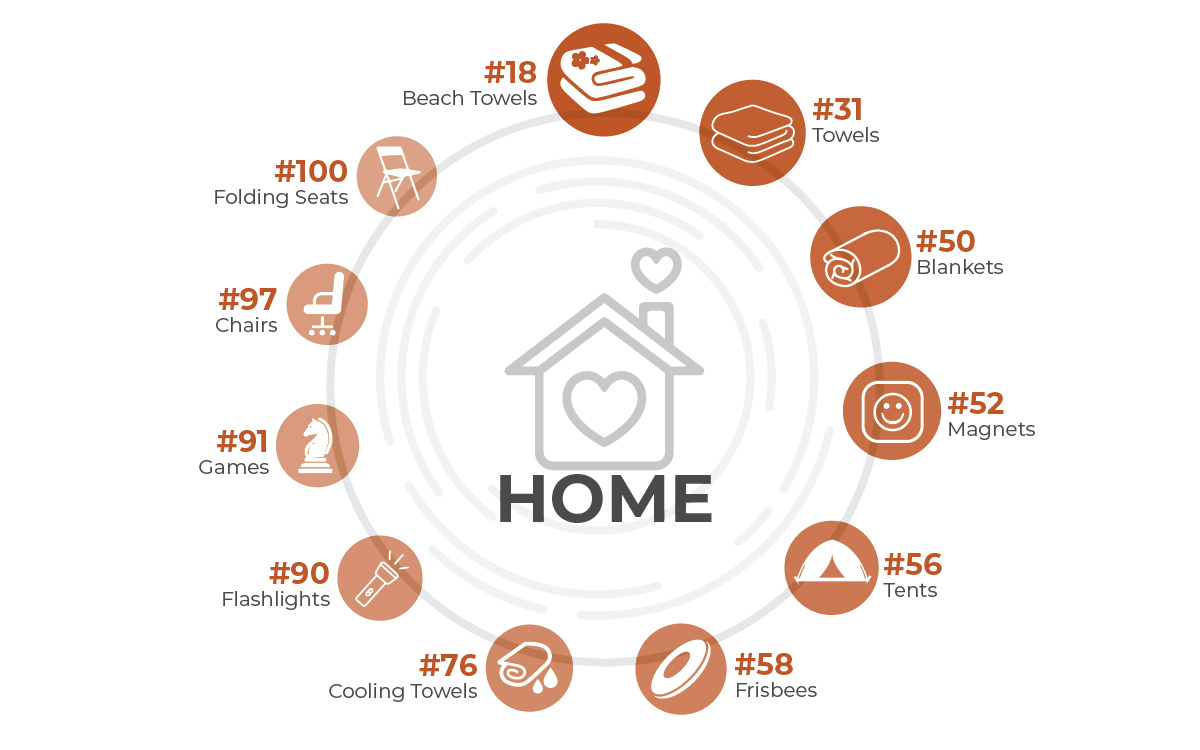 Other
Higher-end materials – including wood, metal and leather – all noticeably dropped, as did custom products (down 10 places).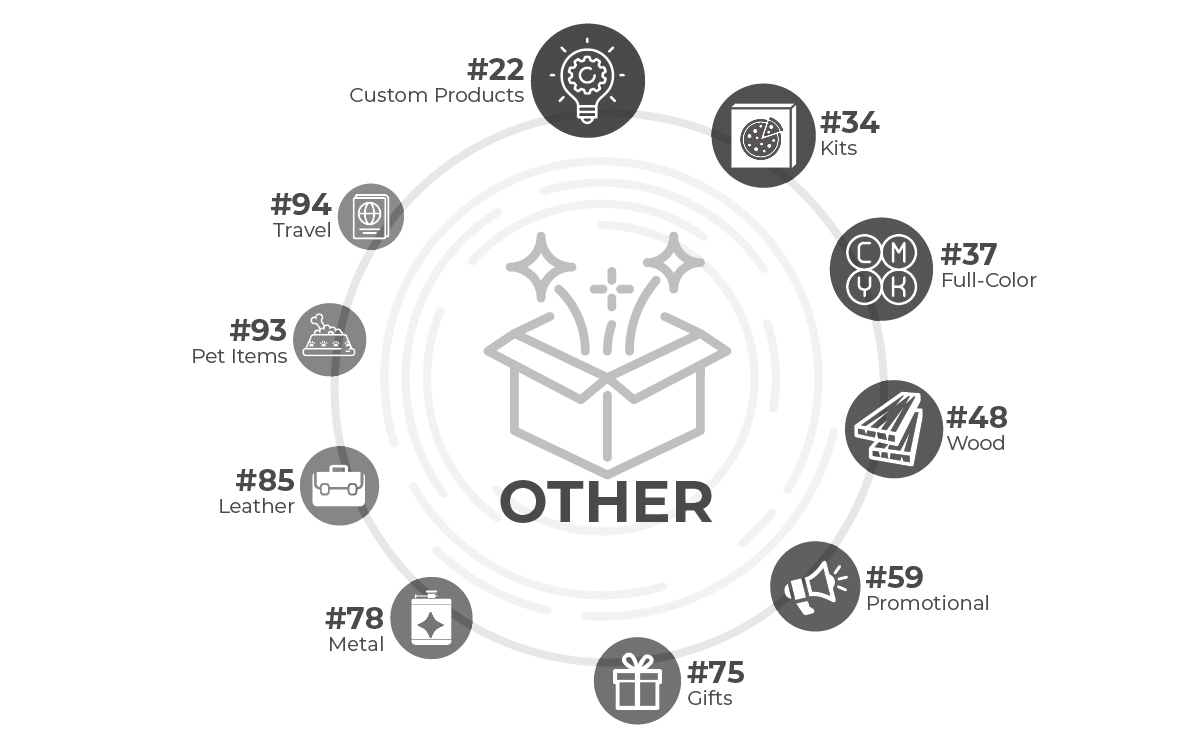 Personal
Lanyards ticked up this quarter from 23 to 19, and may continue moving up if live events continue their return.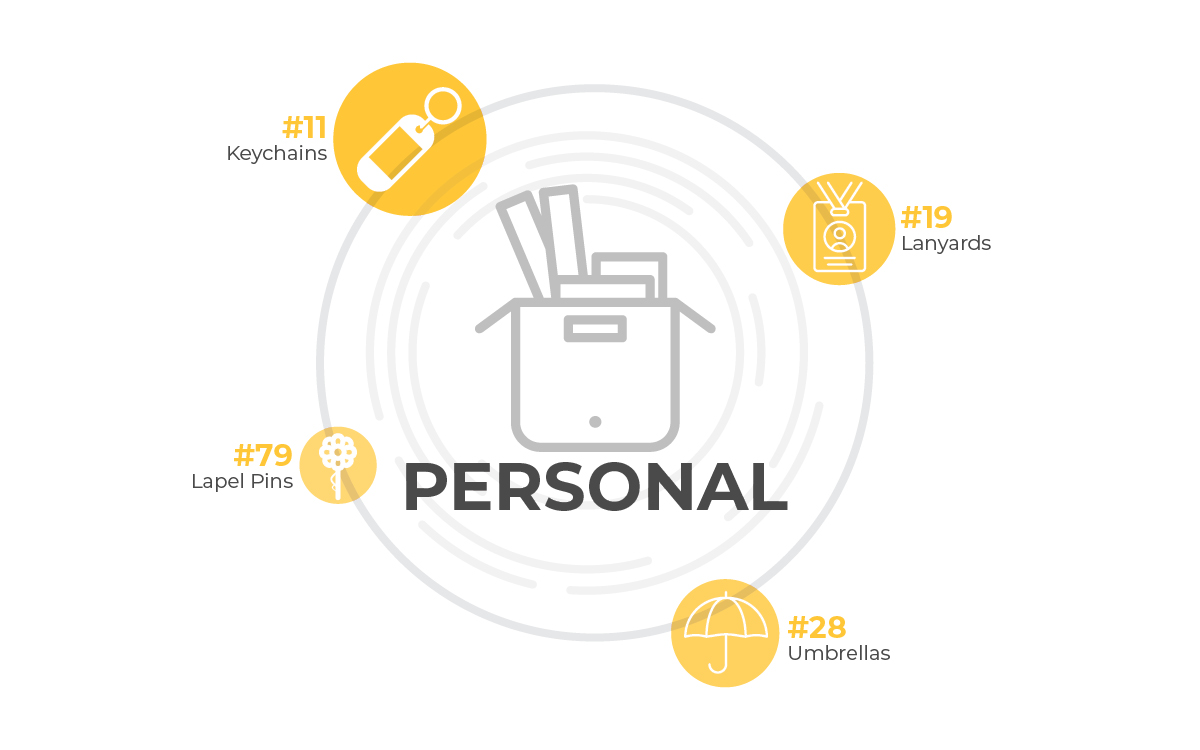 PPE
Beyond masks falling from the top spot, hand sanitizers also took a serious tumble. The second most popular search term in all of 2020, sanitizers fell to 10 in Q1 and now 23.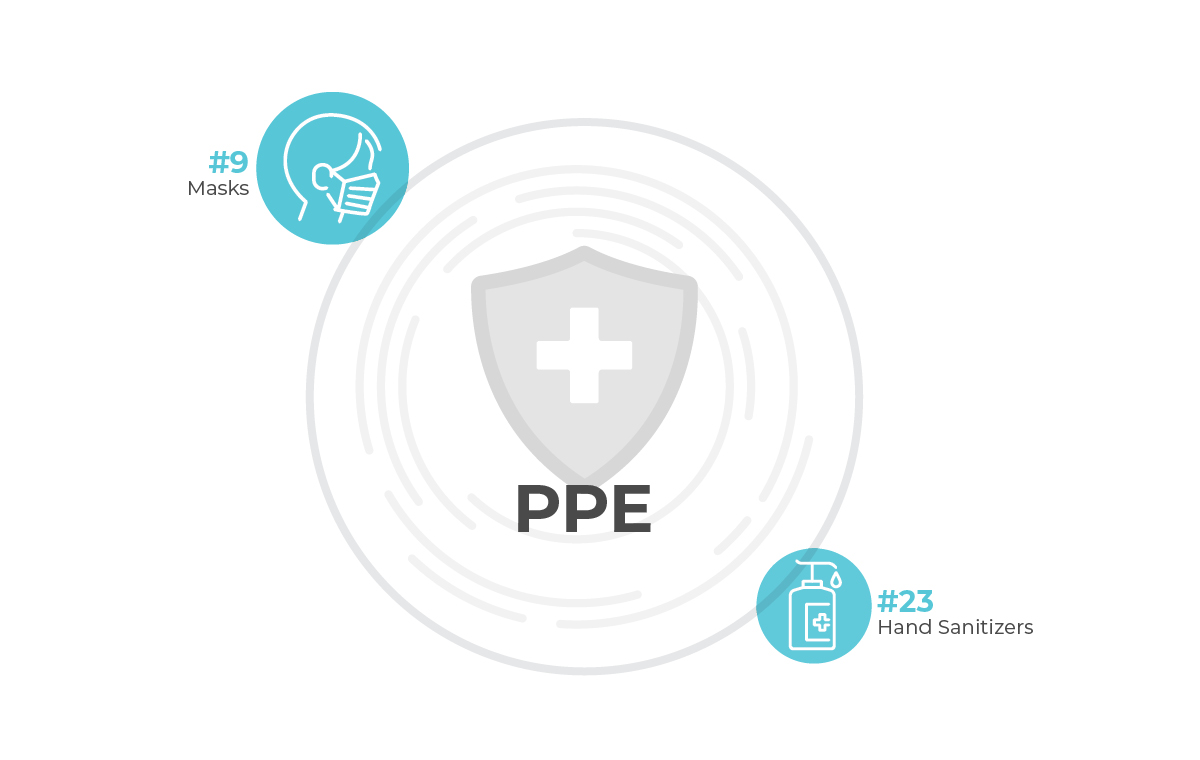 Signs & Display
The return of live events is certainly boosting this category. Flags moved up 16 spots, tablecloth sets moved up 32 spots and banners debuted on the list.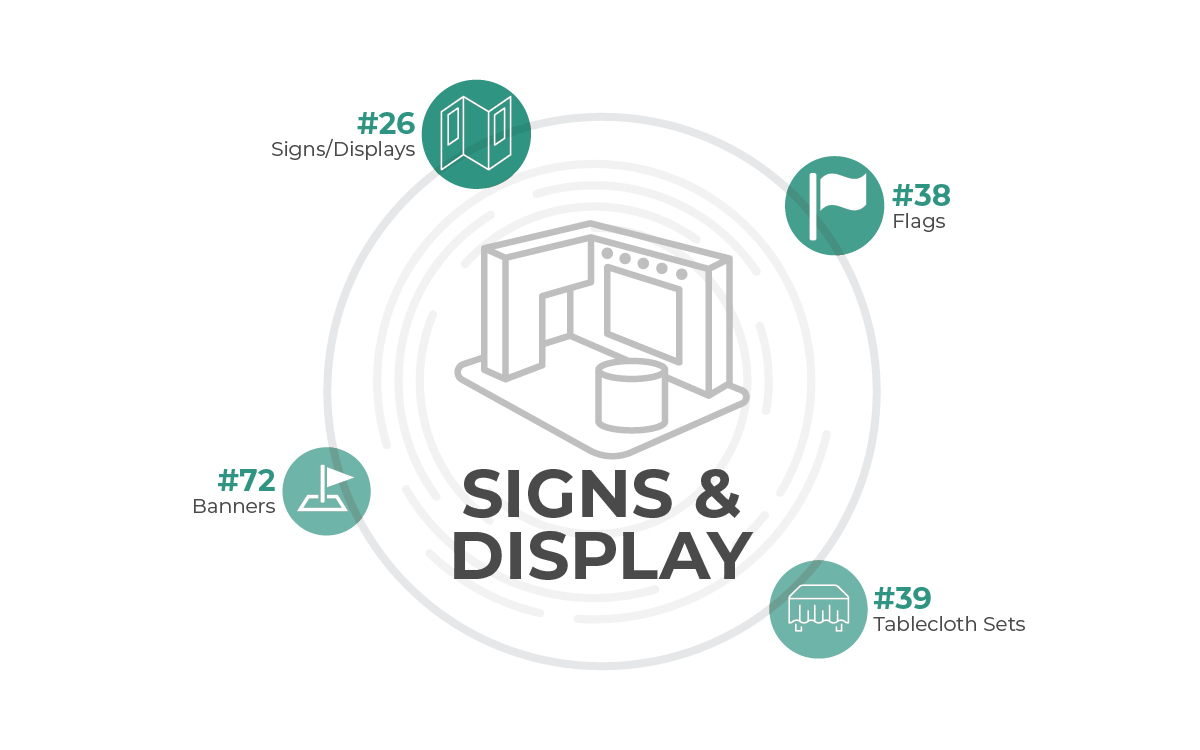 Sports
Is there any other sport besides golf? Maybe not for ESP users. Golf searches occupied all four sports slots in the Top 100.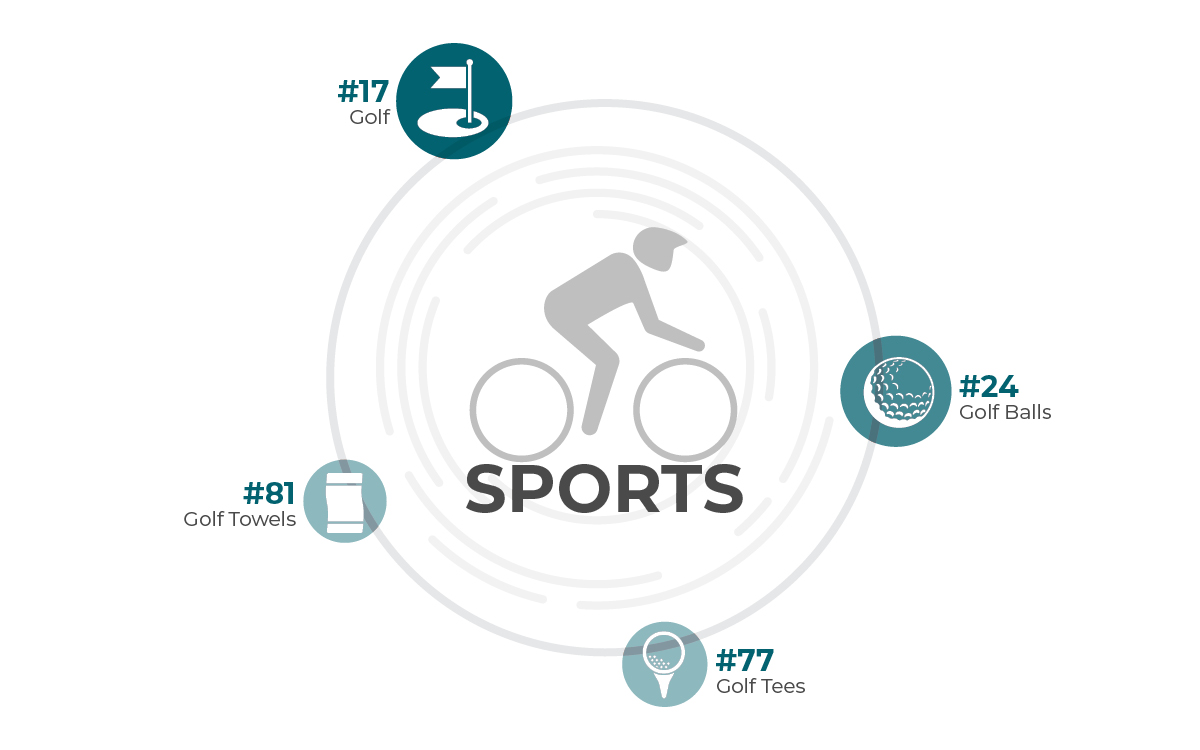 Tech
USB flash drives, mobile accessories and mouse pads all dropped in the quarter, while power banks, wireless speakers and laptop cases maintained their rankings.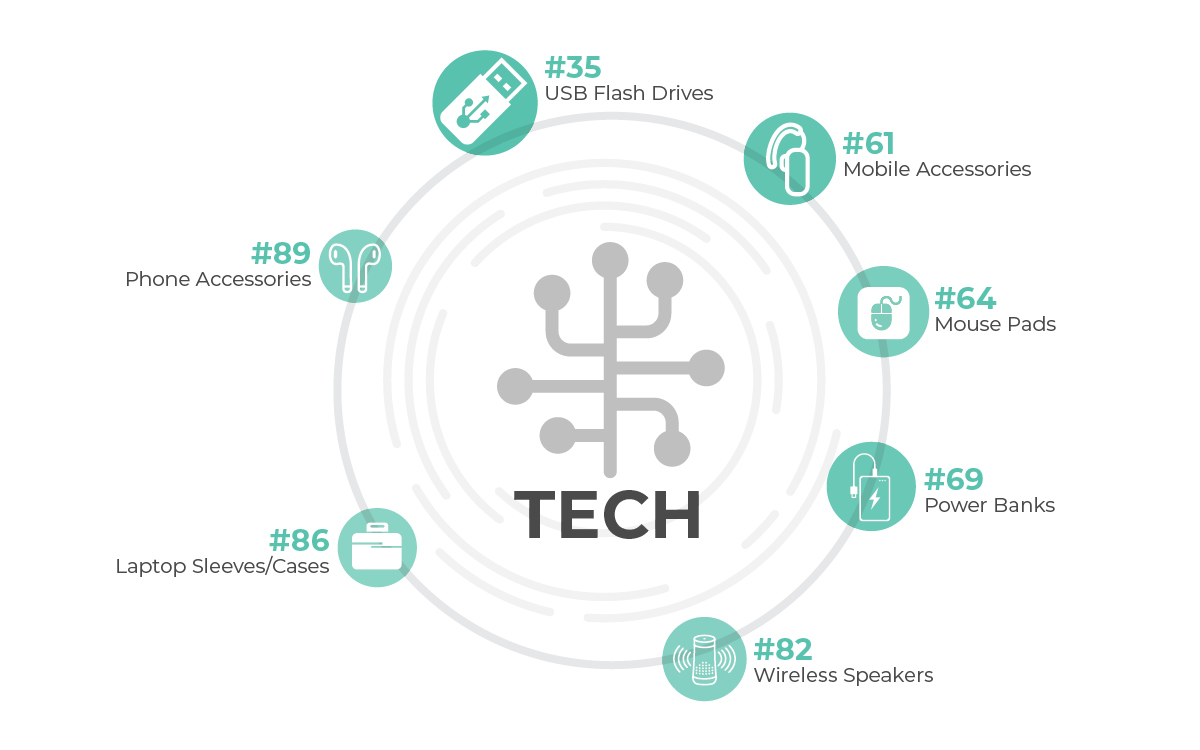 Writing Instruments
Consider this reversal: In 2020, masks had about 60% more searches than pens. In Q2, there were less than half as many searches for masks compared to pens.